Unleash Your Voice To Shine Your Light With Laura Lee
Feb 07, 2023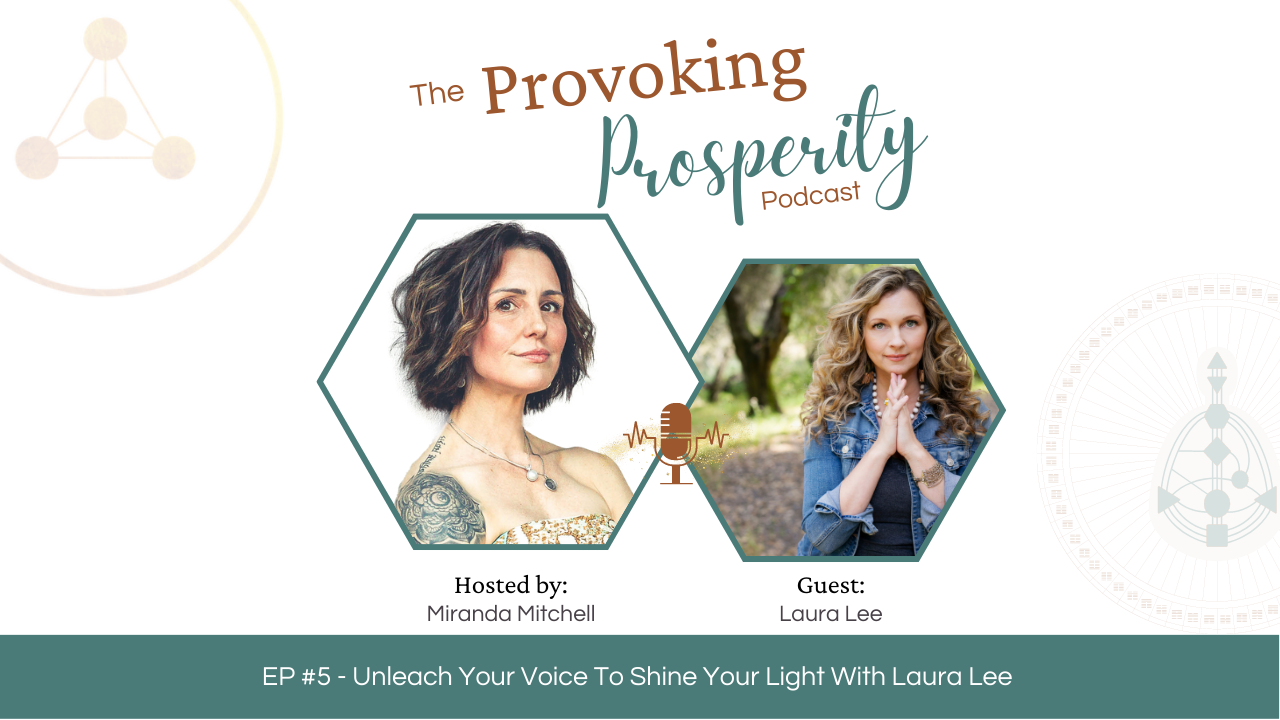 In this episode I get to chat with a beautiful friend of mine Laura Lee. Although I have known her for a few years and have even gone to Egypt with her I do not know a lot of her personal story. I am so grateful that we get to dive in a bit about her and what she brings to the world.
" Prosperity is Full Access" - Laura Lee
Laura Lee supports and guides empaths, creatives, entrepreneurs and leaders who are ready to stop hiding, staying small or second guessing themselves and instead plug back into the light of their soul.
Laura's gift is her heart, her passion and devotion and her unique way of tuning people back into their innate gifts, voice and inner wisdom, empowering them to become the person they were created to be and to share their unique soul medicine with the world.
Over the past 11 years, Laura has championed women and girls to reclaim their voice and deeply embrace all parts of who they are to step into a sacred union of their fullest selves creating a ripple of freedom and impact in their lives, their families and their soul aligned work in the world.
After spending years disconnected from her own voice and living in a perpetual state of fixing what she thought was either too much or not enough, she knows the life-shifting journey of choosing to reclaim the parts of ourselves we thought were wrong and step into our truest boldest, brightest self.
Laura holds certifications and trainings in NLP and Transformational Coaching, Trauma Informed Sacred Depths coaching and group facilitation, Social Emotional Arts Facilitation, Conscious Connected Breathwork (rebirthing breathwork) holistic health and various somatic based healing modalities.
Show Notes
(1:01) Laura's story and why she is passionate about unleashing herself in this world
(8:11) The power of BEING in your purpose rather than doing your purpose
11:27) How vibrating at the truth give other people permission to be authentic
(12:54) Laura's version of prosperity
(16:57) The power thats unleashed by working with Laura
To learn more you can visit her:
Website www.lauraleelife.com
Instagram: https://www.instagram.com/lifewithlauralee/
And Be on the lookout for her podcast Launch in February 2023
Liked what you heard: Subscribe and share!
How to Connect with Miranda:
Learn more about me and how I can support you-> www.miranda-mitchell.com, www.alignedlivingacademy.com
Connect with me personally-> [email protected]
Instagram -> @mirandajmitchell, @alignedliving_academy
Want to know how we can work together? Schedule a Free 15- minute Clarity Session with me HERE !
Want your FREE Human design Chart with INTRO Video?
Go to www.miranda-mitchell.com and click on the button that says Get my Chart:)
Don't Miss Out on Human Design Updates and Promotions... Stay Connected.
Get the latest Human Design Scoop from me!
By submitting this form you agree to receive emails from me. You may unsubscribe at any time. Privacy policy linked in footer.